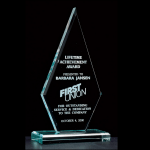 A6400 Diamond Shaped Jade Acrylic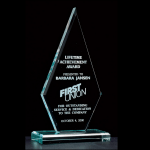 A6400 Diamond Shaped Jade Acrylic
$70.00
$70.00
Diamond Shaped Jade Acrylic – A6400
$70.00
From our Elite series, this refined acrylic trophy features a diamond-shaped, 3/4″ thick jade acrylic plaque on a matching jade acrylic base.
Overall size is 5 3/4″ x 10 1/2″.
Description
Additional information
Description
Engraved Jade Acrylic Award, Diamond Shape
One of our Elite Series of customized acrylic recognition pieces, this award stands 10 inches tall and is ¾ inches thick. We'll etch it to your specifications so you can send exactly the message you want to send: your employee deserves recognition for going above and beyond. A unique take on the standard diamond shape, the narrow, beveled acrylic plaque sits on a subtly curved acrylic base. The elongated angle of the top of the plaque reaches towards new heights, just like your honoree. This is a perfect choice for an engraved acrylic achievement award. Your custom message and/or logo will stand front and center as the main feature of this acrylic trophy.
Nearly 50 Years Leading the Luxury Corporate Gifts and Executive Awards Industry
Executive Awards by Gilson's is different. We're not a big e-commerce shop; we pay attention to each individual piece we create and engrave for our clients, even for orders of up to 500. We can give you the quantity you need and the turnaround you'd expect, but with unmatched quality and personal customer service. Whether it's a luxury corporate gift like a crystal water set for the boardroom, an engraved nameplate for that executive's new promotion, or an engraved acrylic achievement award, you'll find it here. Further, we'll make sure it's made exactly to your specifications. We guarantee all our orders, because we pride ourselves on our masterful quality for corporate gifts and awards. It's our craft and our passion.