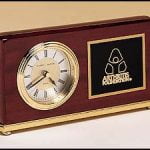 BC48 Rosewood Engraveable Desk Clock with Brass Base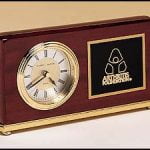 BC48 Rosewood Engraveable Desk Clock with Brass Base
$80.00
$80.00
Rosewood piano-finish, brass base. Diamond-spun dial, three hand movement. Includes black brass plate for engraving.
4″ x 7 5/8″
Description
Additional information
Description
Engravable Desk Clock Gift
This fascinating clock is a one of a kind gift idea for that special assistant or company personnel. The rosewood piano finish sits on a delicate brass base. The diamond spun dial has a three hand movement and it includes a black plate which is ready to engrave!