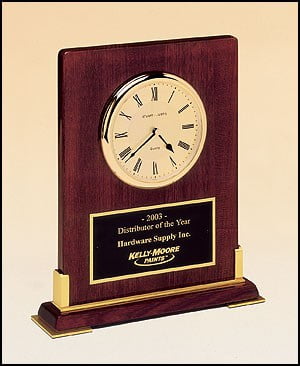 Rosewood Piano-Finish Desktop Clock with Gold Accents BC899
Rosewood Piano-Finish Desktop Clock with Gold Accents BC899
$142.00
$142.00
A different take on an award plaque, this rosewood piano-finish desktop clock has gold metal accents and includes an engraving plate so you can give this workplace gift a personal and thoughtful touch.
Dimensions: 8 3/8″ H x 10″ W x 2 1/2″ D
Description
Additional information
Description
Rosewood & Gold Accent Personalized Desktop Clock
A beauty if we ever spotted one… This majestic rosewood piano-finish desk clock includes an engravable plaque and beautiful gold-tone accents. This unique clock is the perfect office gift and a great addition to a desk or bookshelf in any office setting. It's a different take on a typical award plaque – wood instead of glass or acrylic, a clock face set in the plaque itself, and an engravable plate makes this a great idea for employee recognition awards that keep in line with tradition but also remain unique gifts that feel special to the recipient.