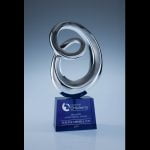 Infinia JC6350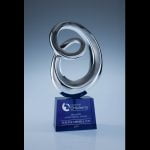 $290.00
Award dimensions: 13.25″H x 7″W x 3″D
The sculptural, Infinia piece is a unique and fascinating design made of chrome-plated resin with a sold blue optic crystal base offering a striking contrast that ensures your award will be long remembered.
Executive Awards is proud to be the official engraver of Cincinnati Children's Hospital Medical Center.
Description
Additional information
Description
Give Us a Call. We Have Plenty of Creative Suggestions and Ideas!
Not exactly sure what your executive awards and business gifts needs are? Give us a call or fill out our contact form. Your inquiry will be personally answered by a Gilson's sales professional. We have specialized in the awards space for over 40 years and we have plenty of creative approaches to finding the perfect solution well within your budget. Relax. Our job is to make yours easy. We promise to deliver a beautiful award of exceptionally high quality, customized to your detailed specifications. You will find the process fast, efficient and immensely satisfying. We guarantee it.