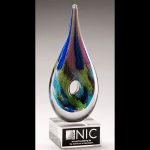 A Blended Spectrum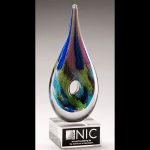 $72.00
Laser engravable aluminum plate.
Each piece of art glass is individually hand blown, so air bubbles and color variations are common.
These Glass Awards are individually packaged in satin-lined, padded gift boxes.
3-3/4 " x  9-7/8 "
Description
Additional information
Description
Far too many awards are homogenous and stale, echoing the same designs and patterns that have been used for decades. Gift your employees something unique that they'll proudly want to display in their homes or offices with this tear-shaped art glass award. Filled with a medley of colors from across the spectrum, this unique design will stand out just like your employees. Each glass design is individually hand-blown meaning no award will be alike, making each piece distinctive if you're awarding a team. An engravable aluminum plate holds the structure, allowing it freely dominate any room it's in. Each art glass award arrives in a luxurious satin-lined gift box to keep it safe.