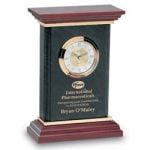 Quantum Clock Q248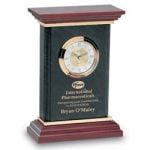 Quantum Clock Q248
$300.00
$300.00
This stunning solid BLACK MARBLE and walnut clock, featuring an elegant brass and glass quartz clock is the definition of a timeless, classic timepiece. 
Dimensions: 9″h x 6.5″w
Description
Additional information
Description
A Classic Timepiece that Makes for a Unique Corporate Gift or Award
This elegant quartz clock is set in a solid, black striated marble plaque and framed in beveled, high-gloss finished wood base and top. It brings to mind turn-of-the-century public architecture, and the engravable plaque makes it perfect for recognition awards or workplace gifts for any occasion. The perfect mix of formal and personal, this unique clock gift is sure to impress the recipient and anyone who sees it on display in their home or office.