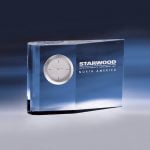 Zilo Desk Clock JC66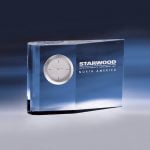 Zilo Desk Clock JC66
$93.00
$93.00
Made of optic crystal in a sturdy design that evokes stability and longevity, our Zilo award features a sleek quartz clock that sits across from your engraving.
Size: 3.5″H x 5″W
Description
Additional information
Description
Zilo Personalized Desk Clock: Simplicity and Refinement
Luxury executive gifts and awards are perhaps most effective when set in solid crystal. The weight and quality of crystal, coupled with its unique ability to refract the spectrum of colored light, make crystal awards unique and luxury at the same time. This fascinating crystal clock is made of optic crystal and features quartz movement for accuracy and efficiency. Standing at 3 1/2" tall, this gorgeous corporate gift has plenty of space for an engraved company logo. The simple, brushed silver-tone clock face with minimalist markings complements your custom frost-textured engraving.