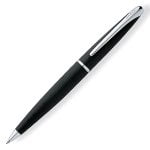 Cross ATX Basalt Black #882-3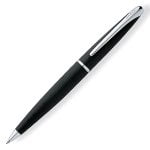 Cross ATX Basalt Black #882-3
$65.00
$65.00
The two most popular of all writing instrument colors, black and chrome, combine to create an exciting new look in the Cross ATX Basalt Black ball-point pen with chrome plated appointments.
Description
Additional information
Description
An Engraved Pen as Timeless as It is Beautiful
For most people, pens are a dime a dozen. But when you find a pen that is truly exceptional, that is an absolute joy to write with, you tend to hang onto it. It is a treasure of an instrument, something you'll cherish for generations, literally.
Even in this digital age, think how often we write with a traditional pen. We take notes, authorize checks, and sign legal documents. Those moments deserve to be special, signed by a one of a kind pen that you will use all your life.
A quality pen makes a great corporate gift because it is stylishly useful. It's a refined classy gift, perfect for the executive or an entire leadership team. The pen remains an instrument of business and will continue to be. A pen as beautiful as this shows that such a refined instrument can also be a work of art.
Engrave whatever you'd like on it, whether your name, an important anniversary date, or an inspirational saying. This pen will be treasured for generations so consider carefully.
Whatever your corporate needs, Gilson's can accommodate, whether you need a single pen or 500. We strive for excellence in whatever we do, including personalized pens and desk accessories. These pens are works of art you will pass someday to your children and grandchildren.