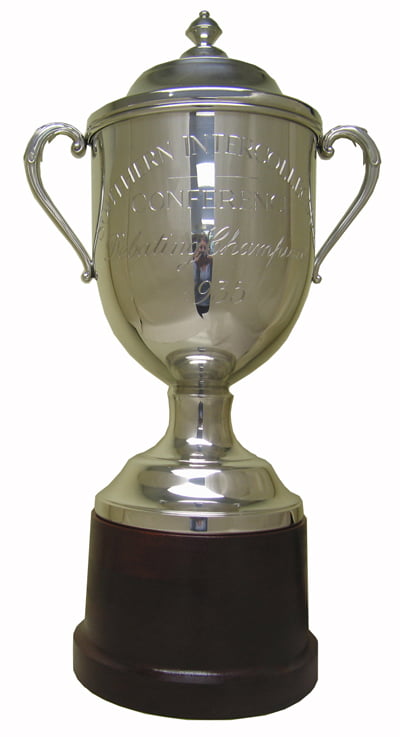 Pewter Trophy Cup
Engravable Breathtaking Pewter Custom Cup and Base
This Breathtaking Engraved Pewter Cup on a Solid Wood Mahogany Finish Base was featured in the movie "The Great Debaters" directed by and starring Denzel Washington.
"The Great Debaters" is a period drama based upon the work of Mel Tolson. Denzel Washington has undertaken Melvin's life story in this film. The movie was released in December 2007.
Melvin B. Tolson was a an African American poet in the 1930. He worked as a professor at the historically black Wiley College in Texas. With the students he created a debating team and went on to defeat Harvard in the National Debating Championships.
THIS IS A CUSTOM ITEM
If you are interested in a custom piece, please click the "Ask A Question About This Product" button to send us an inquiry. We will get back to you to discuss your personalization requests and provide a price quote. Thank you!
Description
Additional information
Description
A High-Quality Trophy Award Worthy of the Movies
Forget about boring award plaques when you can give a gift that celebrates excellence and the power of filmmaking. This is a breathtaking trophy cup of notable craftsmanship. Made of high-quality silver with a distinguished lid, this cup shows the level of quality we deliver. Note its regal handles as they stand out, etching out just above the base. This cup actually made the big screen as it was featured in the Denzel Washington movie "The Great Debaters," which chronicled the efforts of a historically Black Texas school to compete on a national stage. In a way, this makes this unique corporate gift a part of movie history. The base is fully engravable with a special message, though the trophy itself can be customized with an accomplished and stylistic font that will make this the perfect showstopper in any room. Consider this award for any and all special occasions, including as a token of appreciation for retiring board members.