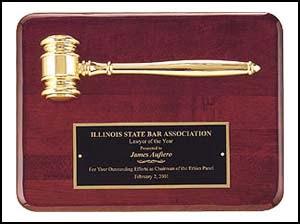 PG3751 Gavel Plaqu
PG3751 Gavel Plaqu
$102.00
$102.00
Gold electroplated metal gavel on a 9″ x 12″ rosewood piano finish board with black brass engraving plate.
Description
Additional information
Description
An Engraved Gavel Plaque Featuring Gold Electroplated Metal
We call this meeting to order! This is a highly sophisticated engraved gavel plaque that's perfect for recognizing the service of a board member or the contributions of one in the legal profession. This piece features gold electroplated metal set on top of a rosewood piano finish board. It's a classy award of notable refinement, perfect for recognizing a distinguished career or service position.