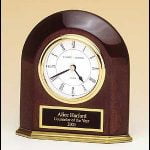 Arched Table Clock with Rosewood Piano-Finish BC858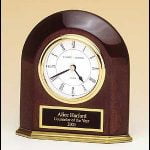 Arched Table Clock with Rosewood Piano-Finish BC858
$85.00
$85.00
This rosewood, piano-finish arched table clock with solid brass base includes an engraving plaque so you can personalize this clock for a gift or award.
Dimensions: 5 5/5″ H x 5 7/8″ W x 1 5/8″ D
Description
Additional information
Description
Personalized Table Clock for a Corporate Award or Gift
Did your team of supervisors reach their goal this year? Reward them with this rosewood piano-finish clock – an exceptional corporate gift. A great addition to any desk, this clock also has an arched design with a solid brass base. The engraving plate is the icing on the cake, taking this unique office gift to a new level of personal and thoughtful.