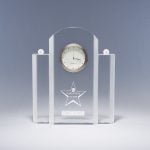 Silvertone Clock JC1917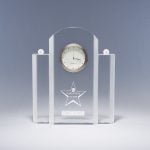 Silvertone Clock JC1917
$235.00
$235.00
Size: 8.50″ H x 6.75″ W x 1.25″ D
You'll reward with style when you present our very dimensional Silvertone Clock. This extraordinary optic crystal clock is a feast of facets and frosted textures. The Silvertone also features a Japanese quartz-movement and a satin finish bezel that plays well with its frosted facets.
Individually gift boxed.
Clock supplied with lifetime guaranteed quartz movement.
Batteries included.
Description
Additional information
Description
Silvertone Engraved Crystal Clock — a Fine Corporate Gift or Recognition Award
Every clock has 24 hours. What we do with them, how we budget and parcel them according to the daily tasks we set before us, is up to us. But that is how real achievement is made, minute by minute, hour by hour, day by day. This beautiful clock makes a fine employee gift or a recognition award. Gift this statuesque and solid personalized clock to the office powerhouse, or acknowledge the longevity of an employee's service by gifting this piece as a retirement award. The simple lines that evoke monumental architecture make this beautiful piece stand out among other trophies and plaques. It represents success, strength and solidity.
Gilson's Executive Awards Sources the Best in Fine Crystal Clock Awards
Our pride at Gilson's comes from our attention to quality and detail. This piece is just one of many, many examples of that attention. Its perfectly-cut glass towers that frame the award plaque that houses a personalized clock and engraving are all immaculately designed and crafted. The clock itself has a lifetime movement guarantee. And we offer the same assurances on all the trophies and plaques, crystal barware, silver trays and every other luxury corporate gift we curate and customize. We know that every corporate event is special – different needs for different companies and different occasions. That's why our selection of unique corporate gifts is one you won't find anywhere else.