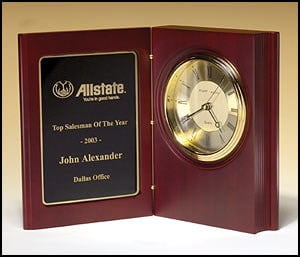 Large Book Clock with Mahogany Finish BC57
Large Book Clock with Mahogany Finish BC57
$159.00
$159.00
Large Book Clock in hand-rubbed, rich mahogany finish with diamond-spun dial and three hand movement.
Includes large engraving plate.
Dimensions: 9″ H x 6 3/4″ W x 2 1/4″ D
Description
Additional information
Description
Consider this Mahogany Finish Book Clock for an Engraved Business Gift
This 9-inch tall engravable book clock has a hand-rubbed mahogany-finish body, three hand movement, and a diamond spun dial and a large engraving plate. Use this combination award plaque/customizable clock to tell the story of a hardworking employee or executive. Whether you're choosing this unique corporate gift as an engraved retirement present, an award plaque for top sales, or as a token of recognition for any number of business successes, this book clock is made both personal and one-of-a-kind with your custom engraved message.