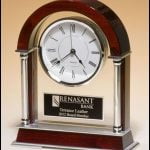 Rosewood Mantel Clock with Silver Accents BC879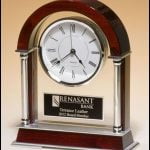 Rosewood Mantel Clock with Silver Accents BC879
$216.00
$216.00
This mantle clock with rosewood piano-finish wood, chrome-plated posts and brushed silver aluminum accents is the perfect luxury corporate gift for that esteemed executive.
Engraving plate included.
Dimensions: 10 1/2″ H x 8 1/2″ W
Description
Additional information
Description
A Classic Timepiece Easily Personalized as a Corporate Gift or Recognition Award
This traditional style mantle clock brings to mind Georgian architecture and refinement. Personalize this mantle clock with a silver-letter message on the plate underneath the clock, which complements the high-shine silver-finish columns perfectly. This clock can work as a corporate gift you can personalize, as a recognition award for a top-notch employee, or even as a retirement gift you can engrave with a personal message that shows your appreciation. Whether displayed at the office or at home, our silver-accented rosewood mantle clock is something the recipient will keep for years to come.
Our Awards & Trophies Maintain the Highest Standard of Excellence
We hold ourselves to a higher standard of excellence than most. After all, we're in the recognition space — the science and art of recognizing and honoring great achievement. It is only fitting that the awards, plaques and trophies we create reflect the greatness they represent. That's why we insist on working only with the best — not only in the high quality materials we work with, but the manufacturers we choose to partner with. We work with some of the best companies in the award and recognition space — proven and reputable manufacturers such as Waterford, AT Cross, Seiko, Bulova and Wilton Armetale. We work with only the finest of materials — highly exceptional wood such as walnut, cherry, and mahogany, glass and crystal desktop awards, executive desk accessories, quality timepieces, and pewter & silver trays, tankards and bowls. When you choose us to provide corporate gifts and awards for your workplace events, you represent your business and organization with the highest quality.