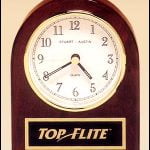 Arched Rosewood Piano-Finish Desk Clock BC892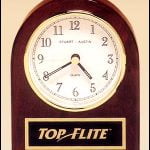 Arched Rosewood Piano-Finish Desk Clock BC892
$51.90
$51.90
An arched rosewood piano-finish desk clock with three hand movement. Includes black aluminum back, gold-tone lettering engraving plate.
Dimensions: 4 1/2″ H x 3 1/2″ W x 1″ D
Description
Additional information
Description
Small Tokens of Gratitude: A Luxury Clock Gift Perfect for the Workplace
Remember big moments with this luxurious personalized clock. This enchanting little rosewood piano-finish desk clock is equipped with three hand clock movement and a black engraving name plate that's ready for your custom memorable message. The smooth, simple lines and high-gloss finish of the wood frame make the engraved plaque stand out just as much as the quartz clock face, ensuring your message of thanks is front and center. Whether the recipient chooses to display this unique corporate gift in a corporate setting or on their desk at home, you can be certain it's something they'll appreciate in each instance they go to check the time.
Personalized Clocks Can Boost Your Brand
While this personalized clock succeeds as a unique corporate gift to commemorate special milestones, consider how it could succeed as a part of your brand strategy. This luxurious timepiece can successfully blend into each nook and cranny of your office space, making it the perfect subtle branding tool to boost morale and synergy. Imagine this personalized clock on every desk, shelf, and waiting room table, with your company's logo brightly shining. Clients will love how dedicated you are to capitalizing on your company's profile and may even ask to take a clock or two back for the office.