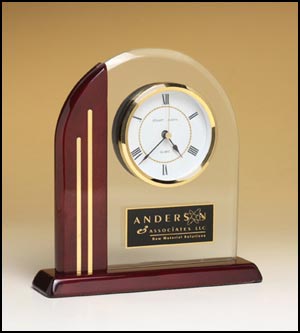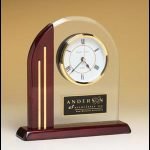 Rosewood and Glass Arched Desk Clock BC919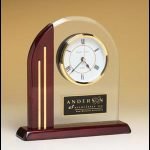 Rosewood and Glass Arched Desk Clock BC919
$104.00
$104.00
This mixed-media arched clock with glass upright and rosewood piano-finish post and base with gold accents houses a Roman Numeral-marked clock face.
Dimensions: 7 1/2″ H x 7 7/8″ W
Description
Additional information
Description
A Luxurious and Engravable Arched Desk Clock Award
This corporate gift is a true embodiment of timeless elegance and sophistication. Standing proudly on any desk, this enchanting clock features striking gold accents that catch the eye and exude an air of refinement. Its design harks back to the iconic skyscraper boardrooms of the mid-century. It evokes a sense of tradition and classiness that transcends eras.
The clock's unique composition balances the elements of glass and rosewood piano finish. This fusion of materials adds a contemporary twist to the classic desk clock, making it a standout piece. The glass portion of the clock exudes transparency and clarity. A luxurious gift symbolizing the value of time and transparency in the corporate world. In contrast, the rosewood piano finish post adds warmth and a touch of traditional craftsmanship. Its flourishes blend seamlessly with the gold accents.
What truly sets this corporate gift apart is the black engraving plate, providing ample room for personalizing this clock. Here, you can inscribe a heartfelt message, commemorate an employee's milestone, or display your company logo. The result is a customized piece that reflects the recipient's achievements. A perfect gift for employees for their dedicated service or to executives for their leadership. This mixed media take on the classic wood and gold desk clock stands as a unique and luxurious corporate gift.