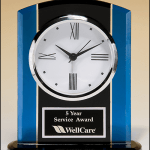 Black and Blue Acrylic Clock BC973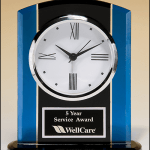 Black and Blue Acrylic Clock BC973
$46.00
$46.00
This Black and Blue Acrylic Clock evokes mid-century modern aesthetic with color blocking and chrome details. This solid acrylic, engravable, personalized clock is quartz, three hand movement.
Laser engravable aluminum plate.
Individually gift boxed.
Clock movements are guaranteed for life.
Batteries included.
Size: 5.25″ x 6.25″
Description
Additional information
Description
A Solid Acrylic Plaque with an Elegant Crystal Clock
Unique corporate gifts come in all shapes and sizes. You don't always have to reinvent the wheel to impress the recipient with something special. This engravable acrylic plaque personalized clock is such an example. Its shape and purpose falls squarely within the traditional field of trophies and plaques, but its design makes it stand out among the rest. The blue and black color blocking coupled with chrome details and Roman Numerals on the clock face evoke the mid-century: partially a nod to art deco, partially a nod to mid-century mod. The perfect corporate gift for a retiree, senior employee, or that special CEO with a quirky sense of style, this personalized clock doesn't take much more than a simple engraving to become a one-of-a-kind, unique corporate gift.
Engraved Acrylic Awards and the Importance of Professional Presentation
Part of receiving an award is the honor of the recognition, but in practical terms, it means much more than just an inspirational pat on the back. After all, the award is a testament to the winner's performance or services. It gives them a credibility that has real practical applications professionally. That is why it is important that engraved acrylic awards be of extremely professional quality. This award is more than just appreciation and recognition. It will become a business card of sorts, similar to a professional resume or official certification the receiver may use to better leverage their services professionally. It must be strikingly impressive because it may very well be a bridge to a great deal or partnership.