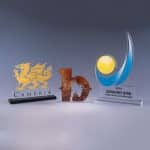 Custom Acrylic Shapes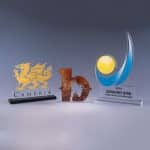 Our custom acrylics are designed to absolutely WOW the recipient! Create the perfect, custom award for any achievement or recognition! Our custom acrylics can be designed in any number, shape or design including your company logo. These awards are made of optically-pure acrylic and are digitally printed in vivid color, then cut and polished to any size or shape.
Available in 1/4″, 3/8″, 1/2″ or multi-layer designs.
Contact us today to start designing your custom award.
P: 1-800-906-7654
E: [email protected]
Description
Acrylic Awards Can Be a Luxurious Corporate Gift
When it comes to creating remarkable awards, our custom acrylic shapes are the epitome of personalization. We are dedicated to designing awards that go beyond the ordinary. Customized gifts that leave a lasting impression on the recipients. An award fit to commemorate their achievements in a truly unique way.
The flexibility of our custom acrylic shapes knows no bounds. Whatever the occasion or milestone, we can craft the perfect award to match its significance. Perfect for distinguished corporate recognition, a sports triumph, or a charitable endeavor. Our team is here to bring your vision for this personalized award to life. From classic designs to intricate and innovative shapes we're flexible. We want to create awards that truly represent the essence of accomplishment.
With our state-of-the-art digital printing technology, we ensure that the colors and details of the designs are striking. These acrylic awards capture every nuance of the artwork or corporate logo. The brilliance of the digitally printed colors enhances the elegance and luxury of this gift. They create a mesmerizing effect that sets our awards apart.
Moreover, our skilled craftsmen meticulously cut and polish the acrylic to perfection. Our team offers a seamless blend of artistic finesse and impeccable craftsmanship. The precision and attention to detail in crafting each award contribute to its distinctive nature.
To cater to diverse preferences and preferences, our custom acrylic awards are available in various thicknesses, including ¼", 3/8", and ½". For those seeking an even more captivating effect, we offer multi-layer designs, adding depth and dimension to the awards.
Our custom acrylic shapes elevate the concept of corporate awards and gifts to a whole new level. We transform them into treasured pieces of art that recipients will display with pride. Celebrate your team's success with our custom acrylic awards. Let us create the perfect recognition award that will be cherished for a lifetime. A corporate gift that offers both luxury and a personal touch.