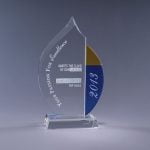 Fuego JC1650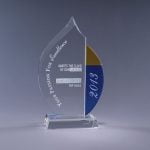 $229.00
9.75H x 5.75W x 2.5D
The flowing lines and sculpted bevel of the Fuego Crystal Award are further enhanced by the gold and blue accent along the side of this outstanding piece.
Description
Additional information
Description
An Astonishing Award Destined to Inspire
The flame of success, impassioned, inspired, committed. Like a blazing fire, great achievement feeds itself and if nurtured can lead to self-sustaining and perpetual success. After all, that is the ultimate goal of any award recognition effort: recognize great accomplishments so they may be repeated again and again. This beautiful award is guaranteed to inspire, amaze, and impress. It will be treasured and proudly displayed for years to come. It is a work of art, destined to light up a room with an aura of greatness and achievement. Every detail is customizable to your exact specification, with personalized master engraving available.