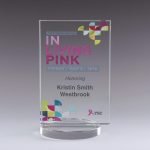 Avante JC724 JC725 JC726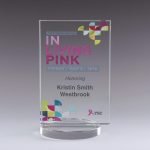 Avante JC724 JC725 JC726
$145.00 – $165.00
$145.00 – $165.00
Options of engraving or digital print
JC724 – 5.5″H x 4″W (SM) – $145.00
JC275 – 6.5″H x 5″W (MD) – $155.00
JC276 – 7.5″H x 5″W (LG) – $165.00
Featuring texture and dimension, the Avante is a very clean award made of brilliant Starphire Crystal. The reverse-etched name ascends the front, and is artistically balanced by your award inscription on the back. For aesthetics we highly recommend setting type flush right and positioning logo as shown.
Description
Additional information
Description
A Crystal Plaque Designed for Dimension & Depth
The beauty of this crystal plaque is its wide open possibilities for design. The texture and dimension in this award provide a perfect creative medium to tell your message with style and verve. Featuring brilliant Starphire Crystal, this award features reversed etched name engraving to create a sense of differentiation that sets it apart from all the others. There's an artistic balance in this award we think you'll be highly impressed by. It's an award you'll cherish for decades.
An Art Glass Award of Visual Distinction
The differentiation in angles and dimensions make this a visually interesting award. Made of brilliant Sapphire crystal, the crisp rectangle design set upon a glass base provides a differentiation of space that plays with the eyes. This crystal award looks frozen in time, reminiscent of ice sculpture. Though this award is just as beautiful, it's much more permanent — something your team will cherish and display for decades to come. It's glass trophy is truly a work of art!
Additional information
| | |
| --- | --- |
| Weight | 5 lbs |
| Size | Small (SM), Medium (MD), Large (LG) |
| Customization | Engraving, Digital Print |