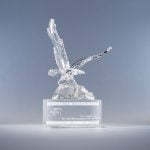 Soaring Eagle JC148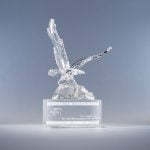 Soaring Eagle JC148
$339.00
$339.00
Dim: 10″H x 5.5″W
A symbol of grace and beauty, our very stately eagles are well-suited for high flying achievers. Perched upon its optic crystal base, this full-lead crystal eagle makes an impressive statement.
Description
Additional information
Description
The Soaring Eagle — an Art Glass Award Symbolic of the American Dream
Success is the spirit of the American dream, and nothing epitomizes that ideal than the American eagle. This beautiful glass award is a work of art, a stately and impressive sculpture that inspires natural ingenuity. Poised in flight, the eagle is a symbol of raw achievement, for those who fly undaunted into the horizon on the wind of wings. It is grounded on an optic glass base — perfect for engraving. We think you'll be highly inspired by this award. When your team gives their very best, celebrate that accomplishment with an award that soars to new heights. That is, after all, what the American dream is all about.