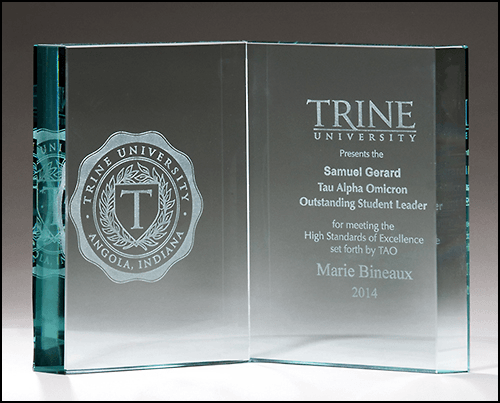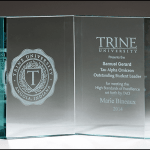 Jade Glass Book G2638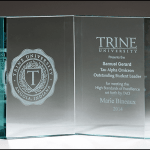 Jade Glass Book G2638
$54.00
$54.00
Our Jade Glass Book lends a look of tradition and achievement while highlighting the transparency of theory, making it perfect for educational awards. 
Description
Additional information
Description
An Engraved Glass Award to Commemorate Educational or Religious Achievement
Crafted from exquisite ¾ inch thick jade glass, this open book-style award is more than just a recognition piece. It's a luxurious symbol of achievement and gift for commemorating milestones. Perfect for a graduation ceremony, academic excellence, or a recognition of spiritual dedication. This glass award stands as a timeless testament to the dedication and accomplishments of individuals.
Its elegant design ensures that it isn't simply a token relegated to a dusty shelf but a work of art that can grace a desk, mantle, or bookshelf with pride. The pristine surface of the glass award presents a canvas for customization. This glass award offers ample room to engrave a custom message that carries profound meaning. It infuses the recognition award with motivation and wisdom. This glass award becomes a touchstone for the recipient as they embark on new endeavors. Each glance at the engraved words reminds them of their potential and the aspirations that propelled them to this milestone.
This engraved glass award transcends its physical beauty. It becomes a luxurious and meaningful recognition of achievement and a personalized gift. It serves as a testament to the dedication, hard work, and growth that have culminated in this moment. The open book design symbolizes the continuation of learning and the endless possibilities that lie ahead.