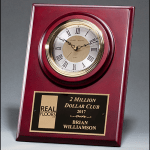 Cherry Finish Clock BC1014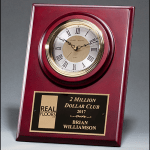 Cherry Finish Clock BC1014
$115.00
$115.00
Cherry Finish Clock with Three-Hand Movement Wall Mount or Shelf Stand
BC1014 – 9″ x 12″ – $115.00
Laser engravable brass plate(s).
Individually gift boxed.
Clock supplied with lifetime guaranteed quartz movement.
Batteries included.
Description
Additional information
Description
Engraved Award Plaque: A Classical Personalized Clock of Versatile Purpose
The cherry in this engraved award plaque is classically enchanting. It stands out in a room and captures attention with its inspiring allure. Part plaque, part functional timepiece, the clock itself is of extremely high quality featuring 3 hand movement that is guaranteed for life. This award can be displayed as a shelf stand or hung on the wall. It's more than an award but also a highly fashionable office decoration and a wonderful conversation piece.