Cherry Finish Clock BC1014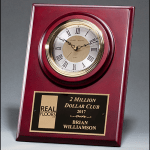 Cherry Finish Clock BC1014
$115.00
$115.00
Cherry Finish Clock with Three-Hand Movement Wall Mount or Shelf Stand
BC1014 – 9″ x 12″ – $115.00
Laser engravable brass plate(s).
Individually gift boxed.
Clock supplied with lifetime guaranteed quartz movement.
Batteries included.
Description
Additional information
Description
Personalized Clocks: A Marriage of Function & Taste
Time doesn't just measure how many hours have passed in a day — but how much you have left. After all, one of the most important measures in an executive's economy is how many hours and minutes are left to accomplish the day to day tasks that are so critical to success. That's why a personalized clock like this cherry wood finished piece with engravable brass plate is a highly appropriate executive award. It's functional — measuring the progress of the day as you plot your accomplishments — but it's also highly exquisite, essentially placing time itself on a pedestal so to speak. Whether as an award or employee gift, this clock is also a wonderful conversation piece — the perfect piece to define the decor of a desk or an office shelf.