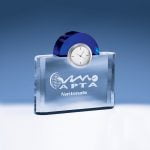 Night and Day Clock JC91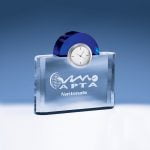 Night and Day Clock JC91
$103.00
$103.00
This solid crystal clock uses the contrasts of blue and clear to evoke night and day, making it a perfect choice for someone who works around the clock.
Size: 4.5″H x 5″W x 1″D
Description
Additional information
Description
Engraved Crystal Clock: Night and Day
This captivating clock is the perfect corporate gift of the year. When it comes to awards and gifts, you really can't go wrong with crystal – it's luxury and beauty, both art and award. And this crystal award takes it one step further with its useful clock face. With a clear optic crystal at the base and a royal-blue semicircle at the top, this clock will sit tight on any desk or bookshelf. Add your company logo below the clock face or get a name or message engraved to take this crystal award from unique to a truly one-of-a-kind corporate gift.